About Us
At Christian Care, we proudly stand as a continuing legacy left by our founder, Guy Rodgers.  For 48 years he faithfully served the men, women and children of our community, dedicating his life to helping the weak, the less fortunate…the least, the last and the lost.
From our humble beginnings as the Rock Island Rescue Mission with one room where men could get help with food, clothing, shelter and spiritual nourishment to the organization we are today, Christian Care is helping to improve the lives of individuals experiencing homelessness, individuals struggling with mental illness, substance abuse, men transitioning out of prison and veterans.
Our community meal site serves over 45,000 meals annually and we provide over 14,000 nights of lodging. 
We encourage residents and others to deepen their spiritual development and provide intensive case management services to help them truly transform their lives.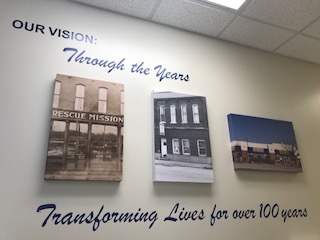 Success Story
Mark Williams' Story
The major turning point in the life of Mark Williams happened in the winter of 2012, after a suicide attempt on his brother's kitchen floor. That year was the first time that Mark had entered Christian Care Rescue Mission.

"I was an island," Mark describes his history struggling with drugs, alcohol, and unhealthy relationships which lead to him losing jobs and housing, participating in criminal activity, and affecting his parenting over the next few years. Despite all this, Mark did not lose sight of hope. While enrolled in another mission in Chicago—Mark's hometown— he developed a plan to open his own cleaning business.

After returning to the Quad Cities in March of 2017, he entered Christian Care's program once more with that goal in mind. His first few attempts were unsuccessful, and Mark even gave up at one point. However, through the guidance of a member of Mark's church family, and the advice of one of Christian Care's frequent community meal site patrons, he gained the motivation, confidence, and business approaches to "take another leap," as Mark puts it.

In a matter of months, Mark acquired his business license and insurance. The clients followed shortly after.  By the time of Mark's discharge from Christian Care into his own apartment, he had secured himself ten business accounts. Mark credits the friends he made and the structure provided at the mission for much of his success.

"I needed that to provide me with stability and teach me how to be still—how to be content in the moment," Mark says.

Today, Mark is successfully maintaining his own housing, his sobriety, and relationships with his children, as well as securing more business accounts. His motivation hasn't faded, and if asked about his future goals Mark replies "I just wanna live the American dream, I'm old-fashioned that way."