About Us
Located in Rock Island, IL, Christian Care is part of a region of four cities in Northwestern Illinois and Southeastern Iowa, making up the Quad Cities.  We are a connected and prosperous bi-state community on the banks of the mighty Mississippi River with a population of approximately 474.937.  We serve Western Illinois and Eastern Iowa.
At Christian Care, we proudly stand as a continuing legacy left by our founder, Guy Rodgers.  In 1916, Guy established the Rock island Rescue Mission for men, women, and children in need of a warm meal, basic living necessities, and a temporary place to stay.  For nine years, Guy operated the Rescue Mission out of several locations, all in Rock Island.  In 1925, he settled the mission at 2210 Third Avenue and continued his life's vocation until his death in 1958.  In 2004, the mission moved to its current location of 2209 Third Avenue in Rock Island.
From our humble beginnings as the Rock Island Rescue Mission, to the organization we are today, Christian Care is helping to improve the lives of those in our local and surrounding communities who are experiencing homelessness, struggling with mental illness and substance abuse, transitioning out of the prison system, and veterans.
We believe in a holistic and trauma informed care environment and seek to provide services, which emphasize safety, choice, trust, collaboration, and empowerment.  Utilizing progressive case management, residents are able to receive services tailored to suit their specific needs and resource connections allowing for a quick and efficient re-engagement in services upon exit.
In 2018, we fielded over 1,000 calls for service, provided over 13,000 nights of lodging, and served over 41,000 meals to our community.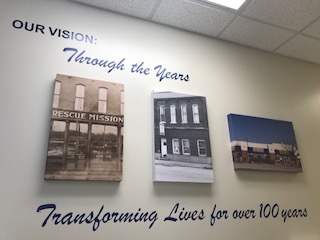 Success Story
Rhonda, Christian Care's parish nurse, first met this young man a few months ago while handing out educational flyers outside of Christian Care's community meal site. He was using crutches at the time so Rhonda offered to check his blood pressure and his feet, but he declined. Over the next few weeks Rhonda kept checking in and he slowly became more talkative.
Finally, he agreed to a checkup, and even let Rhonda pray for him. After a few visits, he started feeling more at ease and began to tell more of his story. His injury was the result of a fall about 4 years ago, and he was initially put in a wheelchair. Thanks to some hard work, he built enough strength to start using crutches, but a lack of handicap access in his apartment building led to excessive walking and regression back to the wheelchair. He now spent most of his time using a wheelchair, but on good days when he was feeling strong, he liked to use his crutches.
A few weeks later, he came back for another visit with Rhonda, but she quickly noticed that his wheelchair was breaking. Due to hitting some of the rough sidewalks and streets, he said the rubber on the wheels of his chair slowly but surely started to come off, and the wheels started cutting into his hand. But with limited options, he thought he would just have to "keep riding it until the wheels fell off."
Rhonda noticed and took action. With his permission, she found a new chair, cleaned it up, and presented it to him within a week. His doctors said his ankles may never be 100%, so he was delighted to have a new chair- this time, one with foot rests. He immediately noticed how easier it was to move around.
Christian Care is so thankful for Rhonda's hard work, her persistent offers to help, and her quick action that led to vital help for this young man.
Check out the wheels on his old wheelchair: