About Us
At Christian Care, we proudly stand as a continuing legacy left by our founder, Guy Rodgers.  For 48 years he faithfully served the men, women and children of our community, dedicating his life to helping the weak, the less fortunate…the least, the last and the lost.
From our humble beginnings as the Rock Island Rescue Mission with one room where men could get help with food, clothing, shelter and spiritual nourishment to the organization we are today, Christian Care is helping to improve the lives of individuals experiencing homelessness, individuals struggling with mental illness, substance abuse, men transitioning out of prison and veterans.
Our community meal site serves over 45,000 meals annually and we provide over 14,000 nights of lodging. 
We encourage residents and others to deepen their spiritual development and provide intensive case management services to help them truly transform their lives.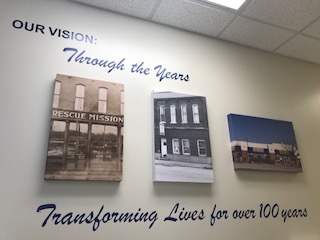 Success Story
Elliot Rasmussen's Story
When Paul "Elliot" Rasmussen entered the Rock Island County Drug Court program, he saw it as a quick way out of jail. He intended on running, and not following through with the program at all.
But the thought of never seeing his daughter again was what ultimately persuaded Elliot to remain enrolled in the program. "I knew I'd have to kiss her goodbye," Elliot speaks of his 9-year-old daughter, Natalee.
Today, Elliot is in Phase III of the Drug Court Program, and is more than 7 months clean and sober. Elliot entered Christian Care Rescue Mission directly from inpatient treatment for drugs, having been incarcerated prior to that. Elliot spent most of 2013 to 2017 in and out of jail and treatment programs, having turned to opiates as a coping mechanism after the death of his best friend.
Rock Island County Drug Court, also known as SOAR (Sobriety, Opportunity, Accountability, Responsibility) is a voluntary 18-month program developed to help people get off drugs and stay off them. Christian Care has partnered with Rock Island County Drug & Mental Health courts since 2013, providing a stable and sober environment for those without court approved housing.
"You all were my home base," Elliot said as he reflected on his time at Christian Care, "you fed me, you gave me responsibilities and held me accountable."
On Elliot's 6-month sobriety date, he was permitted to see his daughter for the first time in years, the build up to that visit was made even more exciting because it was to happen during the Christmas holiday.
Today as he makes the final arrangements to transition to his own apartment and out of Christian Care, Elliot's focus now is on maintaining his sobriety and finishing the final phase of Drug Court, bettering himself, and to continue raising Natalee.