About Us
At Christian Care, we proudly stand as a continuing legacy left by our founder, Guy Rodgers. For 48 years he faithfully served the men, women and children of our community, dedicating his life to helping the weak, the less fortunate…the least, the last and the lost.
From our humble beginnings as the Rock Island Rescue Mission with one room where men could get help with food, clothing, shelter and spiritual nourishment to the organization we are today, Christian Care is helping to improve the lives of individuals experiencing homelessness, individuals struggling with mental illness, substance abuse, men transitioning out of prison and veterans.
In 2017, Christian Care provided over 13,000 nights of lodging and our Community Meal Site served 47,000 meals.
We encourage residents and others to deepen their spiritual development and provide intensive case management services to help them truly transform their lives.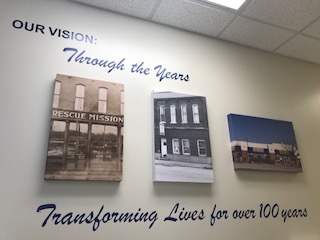 Success Story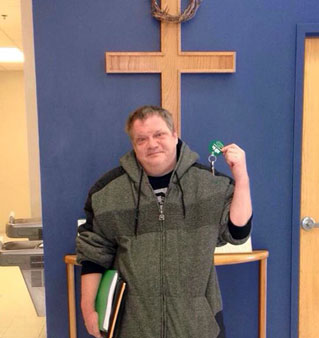 One Man's Story
A few years ago, Odis Roberts found himself in a very difficult situation. After losing his job, he was no longer able to afford his housing and found himself homeless, having to resort to living out of his car.
Odis had been sleeping in his car for weeks before a family friend suggested Christian Care Rescue Mission as a shelter for him to call. After Odis was able to become sheltered at Christian Care's facility, he still had some other hurtles to overcome. Due to health issues, Odis was no longer able to find work in the field that he had been in for years, leaving him with very limited income options.
So, Odis focused his efforts on becoming employable. After nearly a dozen attempts and some tutoring from his client advocate, he earned his GED, and he completed a retail certification program through Good Will.
Despite his best efforts, Odis was not able to maintain a job and felt as if he had come to a standstill. His stay at Christian Care had become longer than most. While Odis became a mentor to many new residents and even played a role in starting programs at the Mission, he was now growing to fear living on his own.
"I'm not ready, I'm so used to being surrounded by people now," Odis said.
However, Odis decided to apply for an apartment through his local Housing Authority. After a few weeks of waiting, Odis was at the top of the wait list and would soon have his own apartment waiting for him. The reality of it was almost overwhelming, but with the encouragement of Christian Care staff and some of his fellow residents, Odis felt confident to accept the offer and move into his own apartment.
Now living on his own, Odis still contributes to Christian Care's mission through regular volunteer work with the agency, as well as other community nonprofits.